There is a good number of jailbreak tweaks in the relative market that allow you to spoof your iPhone's location. However, most of them are quite complex and tedious to use. In this post, we are going to talk about a similar tweak called Relocate Reborn by iOS developer Nepeta. It is an updated version for Relocate that was launched last year.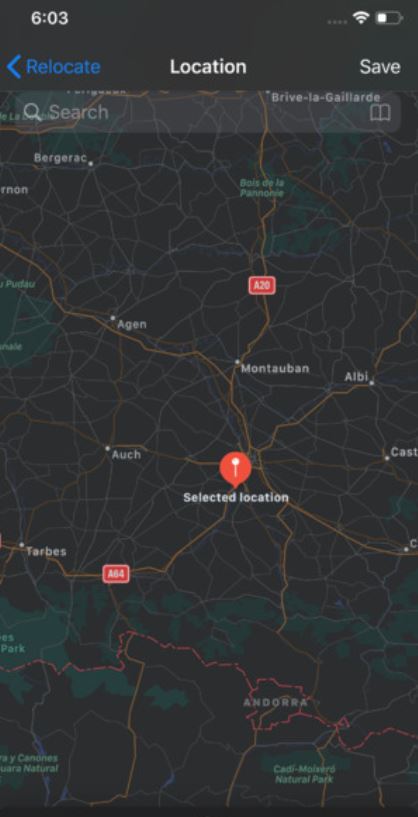 Check out Signal Reborn – Maps Out All nearby Cell Towers on iPhone.
Averse to other relative apps, where you had to specify latitude and longitude for the spoofed location, Relocate Reborn lets you do that by simply dragging and dropping a pin on any point on the map to set the spoofed location for your iPhone. Thereafter, you can work through a number of other options via the dedicated preference pane present in Settings for the tweak.
Relocate Reborn | Advanced Features
The Relocate Reborn tweak comes with a good number of advanced features. Following is the screenshot of the dedicated preference pane for the tweak present in Settings. Let us go through each feature one by one.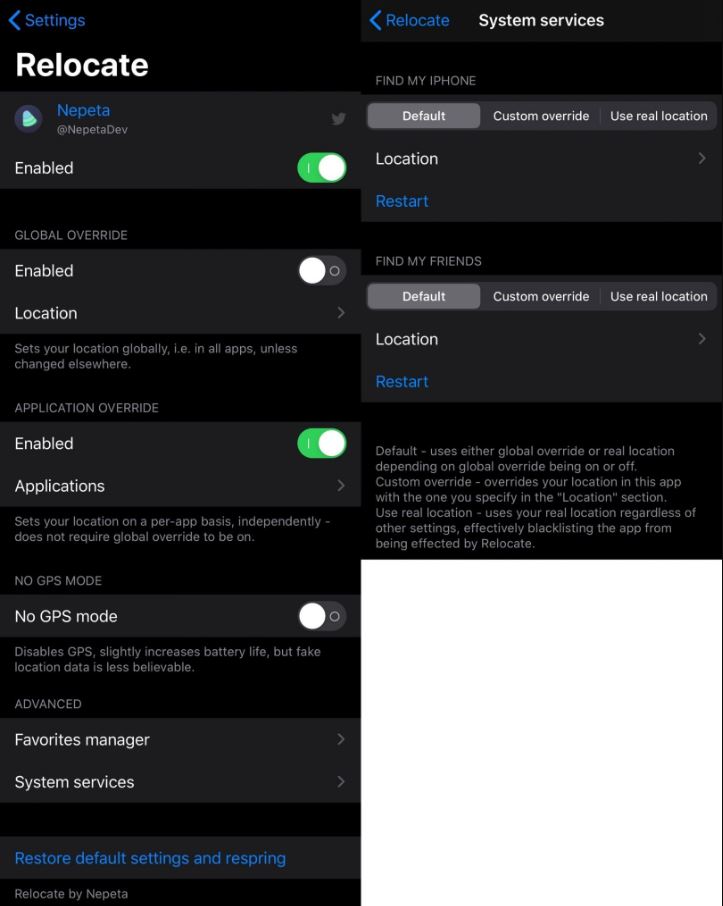 Toggle Relocate Reborn ON or OFF as per your convenience.
The Global Override feature allows you to set a global location for your iPhone. This will apply to all the applications that you have installed on your device.
The Application Override feature allows you to select the apps for which you want to spoof the location. All the apps which you won't select will utilize your actual location.
You can disable GPS to save battery; however, a spoofed location is not dependable when GPS isn't ON.
Add and manage your favorite spoofed locations in the Favorites Manager.
The Configure System Services option allows you to select your real location for Apple's Find My services. Hence, allowing you to track your iPhone if stolen or lost.

Select between default, custom override, or real location for Find My iPhone.
Restart Find My iPhone.
Select between default, custom override, or real location for Find My Friends.
Restart Find My Friends.
Check out DynaWall – Make Custom Dynamic/Live Wallpapers iPhone.
Download Relocate Reborn Tweak on jailbroken iOS 13
You can utilize any preferred package manager (Sileo, Zebra, or the good old Cydia) to download Relocate Reborn Tweak from Nepeta's Repository. Please note that the tweak is free to download and it supports jailbroken iOS 13 devices.
Is Relocate Reborn Tweak Apt for Pokémon Go?
In location-based apps and games are concerned, majorly being Pokémon Go and other augmented-reality games, spoofing your location is against the rules and you can get stuck into an indefinite ban if you try tinkering with your location and get caught. Hence, though the Relocate Reborn tweak will work with such apps, we advise exercising extreme caution while doing the same. Good news is that there exists a safe alternative RelocateMe that allows you to simulate the GPS location of your iPhone system wide.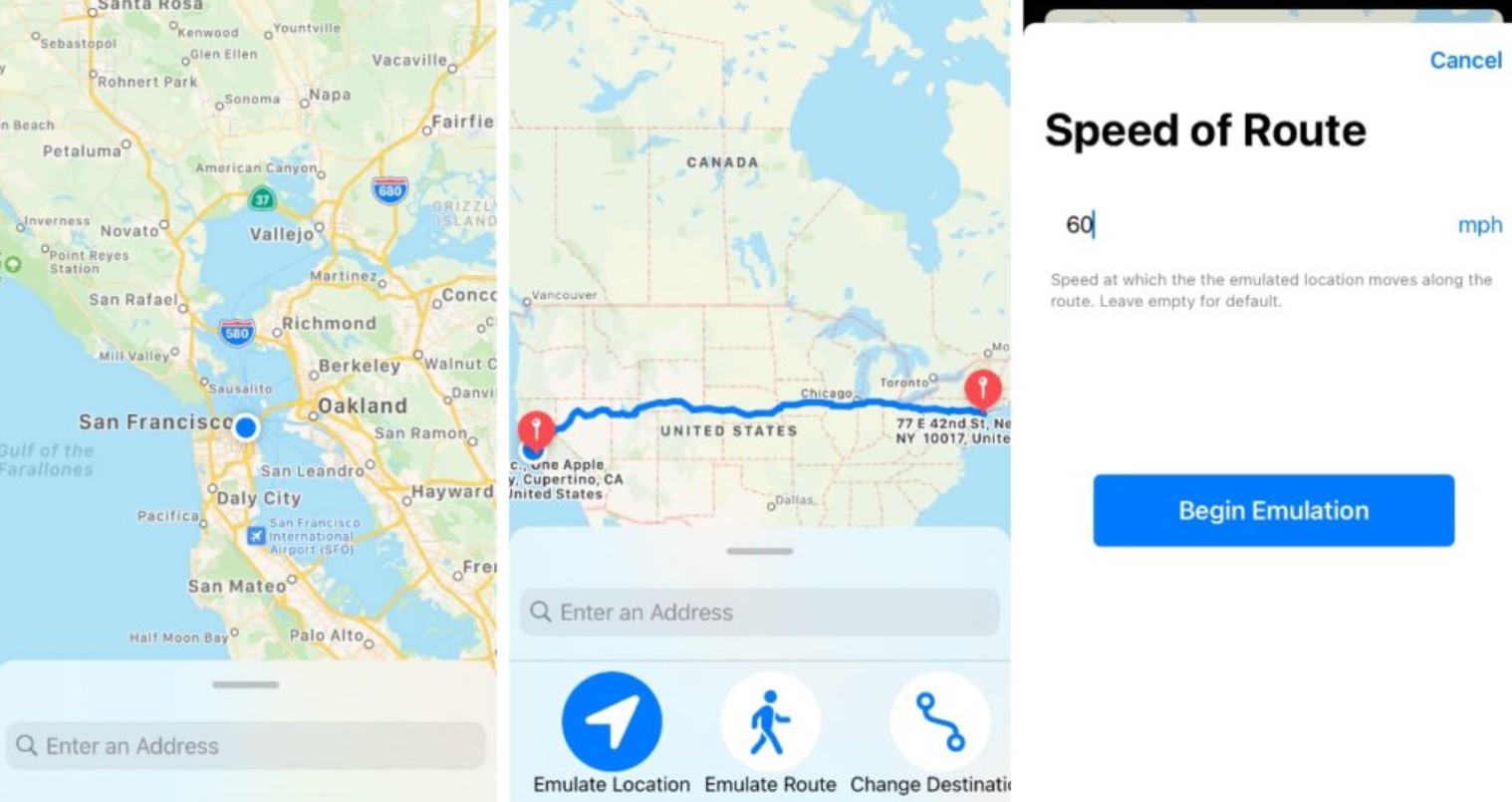 RelocateMe – A Better Alternative to Relocate Reborn?
If your primary purpose of using a location spoofing application is to be able to play location-based games like Pokémon Go and Jurassic World; then you must consider installing RelocateMe jailbreak tweak on your iOS device. The fact that makes RelocateMe perfect for location-based apps and games is that the tweak does not utilize runtime injection and depends on the private API of Apple to alter your iPhone's location dynamically. This makes it next to impossible for the applications to detect that you are spoofing your location.
Apart from changing the current location, you can create a route and set your location to emulate along that route. Please note that even if you exit from RelocateMe after emulating your location, the location-spoofing will continue to work. RelocateMe is available on Chariz Repo for $2.99 and is compatible with iOS 14 up to iOS 14.8.1.
Final Words – Spoof Location of your jailbroken iPhone [iOS 14]
That was all regarding the updated Relocate Reborn and the RelocateMe tweak. If you have any further queries, you are welcome to drop your questions down in the comments section below.
Check out the following interesting jailbreak tweaks as well:
Caim Tweak – iOS 14 App's Pinning Feature on iOS 13.
DockX – Adds Pasteboard Shortcuts to iOS Keyboard (BEST).
The post Relocate Reborn Tweak – Spoof iPhone's Location [BEST] appeared first on iGeeksRadar.